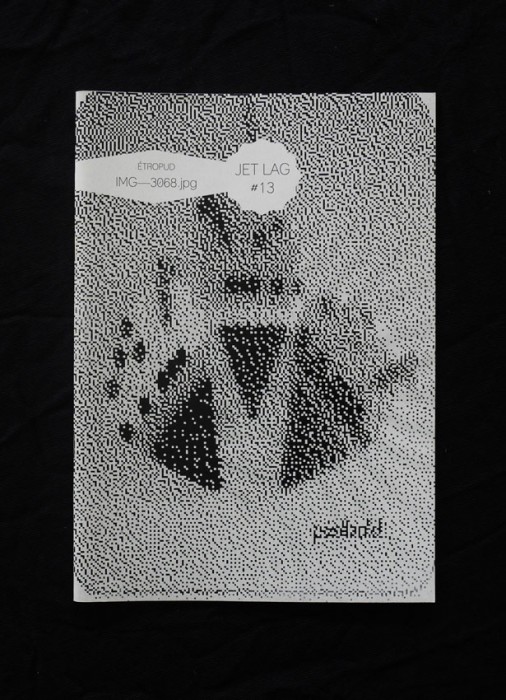 Fanzine / 2012
Jet Lag 13 - IMG-3068.jpg
Etropud
Petite recette à l'usage d'un décalage horaire imagé. Matériel : une photo de vacances, Google image®, Photoshop®, un écran de sérigraphie, un scanner, Lendroit Éditions.
Jet Lag est une collection de livres dédiés au dessin, collage, photomontage et autres expérimentations graphiques.
Jet
Lag
is
a
collection
of books
dedicated
to drawing
,
collage
,
photomontage
and
other
graphic experiments
.
15 x 21 cm / 24 pages / 50 ex.
Photocopie noir
Black copying
ISBN 978-2-917427-24-8
Conception graphique : Chloé Haulser
15 x 21 cm / 24 pages / 50 copies
Black copying
ISBN 978-2-917427-24-8
96 Normal 0 21 false false false FR X-NONE X-NONE /* Style Definitions */ table.MsoNormalTable {mso-style-name:"Tableau Normal"; mso-tstyle-rowband-size:0; mso-tstyle-colband-size:0; mso-style-noshow:yes; mso-style-priority:99; mso-style-parent:""; mso-padding-alt:0cm 5.4pt 0cm 5.4pt; mso-para-margin:0cm; mso-para-margin-bottom:.0001pt; mso-pagination:widow-orphan; font-size:10.0pt; font-family:"Times New Roman",serif;}
Graphic Design : Chloé Hauser
Voir / look inside
PDF :
fiche technique
Autres publications de l'auteur :
On the roof 02