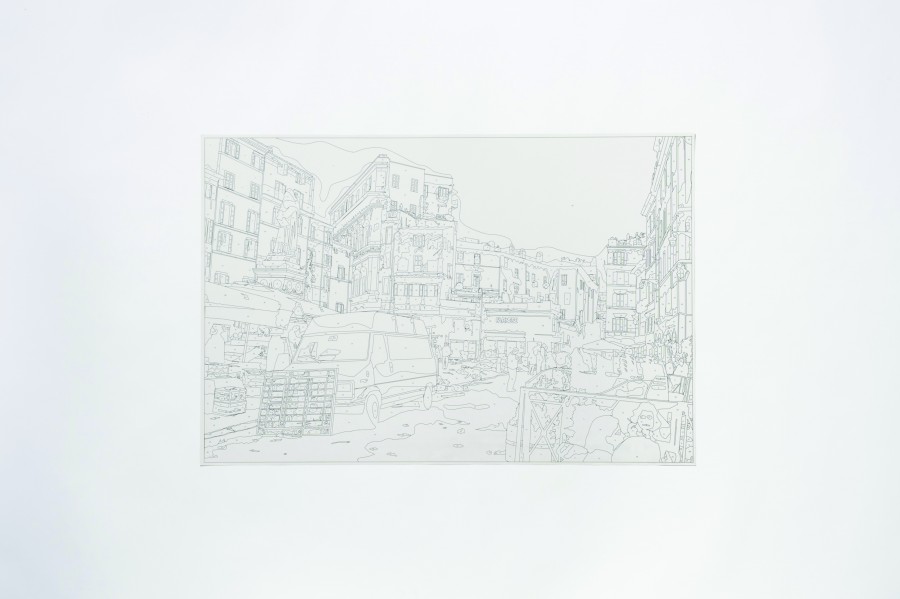 Poster / 2003
Point de vue remarquable
Bénédicte Olivier, Sébastien Vonier

épuisé • sold out
Le poster Point de vue remarquable a été publié à l'occasion de l'exposition À droite au rond-point, point de vue remarquable du 3 au 31 octobre 2003 à LENDROIT.
"L'édition proposée par Bénédicte Olivier et Sébastien Vonier représente une vue dessinée de ville, en noir et blanc, où chaque partie est numérotée à la manière d'un coloriage mais ils n'y ont pas joint de code couleur. L'architecture est ici la toile, le support de la création, que chacun peut travailler, réinventer, modifier. Le choix d'un support simple est délibéré ; les artistes voulant permettre à chacun de faire ce qu'il veut de cette affiche : tenter plusieurs variations ou bien la laisser vierge, l'essentiel étant de se réapproprier l'architecture."
Béatrice Ratréma
The poster Point de vue remarquable was published on occasion of the exhibition À droite au rond-point, point de vue remarquable from October 3rd to October 31st at LENDROIT. 
"The edition proposed by Bénédicte Olivier and Sébastien Vonier represents the draw of the view of the city, in black and white, where each part is numbered in the style of colouring but they did not add a colour code. The architect here is the canvas, the support of creation, that everyone can work with, reinvent, change. The choice of simple support is deliberate; the artists wanting to allow everyone to do what they want the poster: trying several variations or leave it blank, the essential part being to reinvent architecture." 
Béatrice Ratréma 
40 x 70 cm / 500 ex.
monochromie
Impression offset une couleur (noir).
Offset print one color (black).