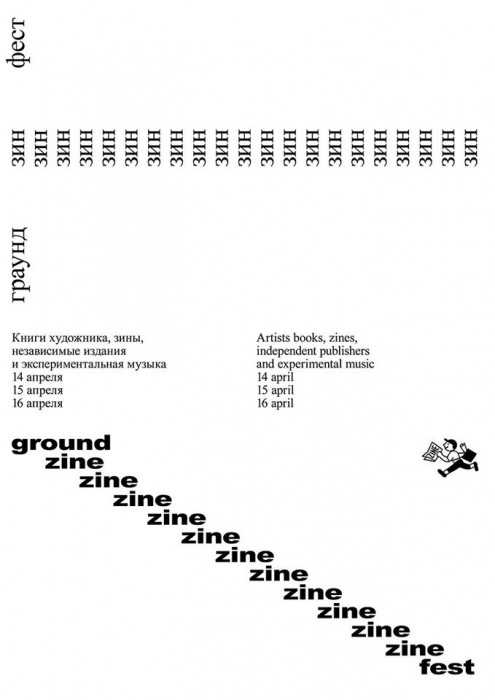 14-16.04.17 - Moscou - Russie, fédération de
GROUND zine fest
GROUND Art Space
Lendroit éditions présente pour la première fois ses éditions à Moscou, à l'occasion de GROUND Zine Fest, un salon dédié à l'édition d'artiste.
On April 14, 15 and 16 the two venues of art-space GROUND Peshanaya / Khodynka will host GROUND zine fest. This is the first ever Russian art-book fair that celebrates the culture of new Russian and international independent publishing and small press. The festival will invite public to a book-fair, lectures of publishers and artist-talks, presentations of zines and print workshops.

The chief curator of GROUND is Katia Bochavar.
Co-curators of GROUND zine fest are Sasha Marshani, Denis Kriukov,
Co-curators of GROUND Khodynka music program: Marta Rukazenkova.
Design: Dmitry Gusev, Mikhail Filatov

The art-book fair will be open at GROUND Peshanaya from April 14 till April 16. Over 50 independent publishers, artists and book-stores will showcase will get to showcase and sell their work. The guests of the festivals will explore a vast collection of art-catalogies, photo-books, monographs, literary almanacs, magazines, livres d'artistes, zines and limited edition prints, from all around the globe: USA, France, Germany, Switzerland, Estonia, Poland, etc.

Significantly, the festival will bring together the founders of the independent Russian publishing houses, artists and zine-makers to sit down for an open panel discussion.

The set of print workshops will turn the fest into a kind of intensive course in zine-making. So that everyone will have a chance to try a hand at creating their own prints. With that as a start GROUND has a very strong intention to become a hub for artists and designers that want to produce and self-publish their works in print.

General sponsor of GROUND zine fest is Mikhail Prokhorov Foundation.

Supported by Pro Helvetia Swiss Foundation and the Ambassy of Estonia in Moscow.