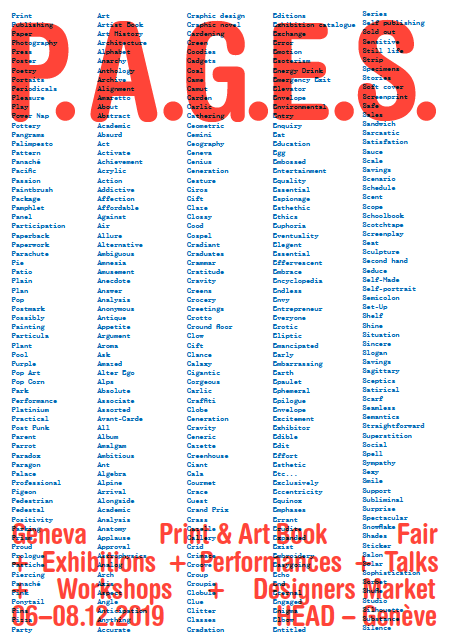 06-08.12.19 - Genève - Suisse
P.A.G.E.S. - Genève
La HEAD – Genève, Haute école d'art et de design, sous l'impulsion de son département Communication visuelle, lance P.A.G.E.S, un salon international dédié à l'imprimé, aux livres d'art et aux multiples. Plus de 100 éditeurs, artistes et designers se retrouveront du 6 au 8 décembre 2019 dans Le Cube, un espace d'exposition de 1200 m2 sur le campus de la HEAD au centre de Genève.
P.A.G.E.S est une plateforme où l'on pourra se procurer publications d'art et de design, tirages de tête, fanzines, affiches, multiples, bandes dessinées,magazines, journaux, éditions limitées
et autres objets imprimés.
En parallèle, des conférences, ateliers, performances et signatures seront proposés durant les 3 jours.
P.A.G.E.S. sera un espace d'échange et de création autour de l'imprimé. Une occasion de se rencontrer.
At the instigation of its Visual Communication Department, HEAD–Genève, Geneva School of Art and Design is launching P.A.G.E.S, an international fair dedicated to prints, art publications and
reproductions. Over 100 publishers, artists and designers will gather together from 6 to 8 December 2019 in Le Cube, a 1200-m2 exhibition space in the campus of HEAD – Genève in the heart
of the city. P.A.G.E.S. is a platform where art and design publications, advance copies, fanzines, posters, reproductions, graphic novels, magazines, newspapers, limited editions and other printed
objects will be made available to the public.
Alongside this, the event will feature conferences, workshops, performances and signings over the three days.
Organisation :
HEAD – Genève, Haute école d'art et de design