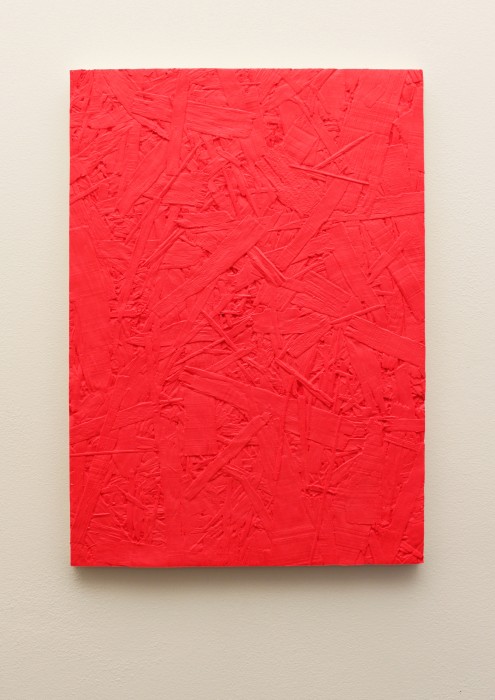 Multiple / 2017
OSB
Jean-François Karst
S'intéressant au motif obtenu par l'accumulation de copeaux de bois, Jean-François Karst se joue ici de la permutation du « sujet » de la peinture et de son support, un contreplaqué de peuplier. Accessible économiquement et reconnu pour son esthétique brute, l'OSB est utilisé à la fois dans la construction et dans l'aménagement intérieur. Ici, la peinture ne cherche plus à imiter le rendu de la texture choisie, mais la conforte dans une dimension décorative.
Multiple de la série Planche contact, qui érige le relief de matériaux quotidiens en motifs, initiée en 2016 dans la continuité des recherches de Jean-François Karst liées à la propension de l'art à imiter et à la propriété des matériaux. Cinq multiples ont été publiés par Lendroit éditions et présentés dans le cadre de l'exposition Planche contact. 
By examining the different motifs that may result from the accumulation of wood chips, Jean-François Karst plays with the permutation of painting as "subject" in relation to the supporting medium, poplar plywood. Financially accessible and well known for the simplicity of its visual aspect, the OSB (oriented strand board) is used both in construction and interior design. In this case, the painting is not intended to imitate the supporting texture but rather encompass the decorative dimension.
Following his research on the painting's ability to imitate and the property of the materials, Jean-François Karst initiated in 2016 a series of multiple, Planche contact, in which everyday materials become patterns after he moulded them. Lendroit éditions has published five of them.
22,8 x 32, 2 x 1,3 cm / 10 ex.
Numéroté - signé
Peinture acrylique sur contreplaqué de peuplier
Livré dans boîte carton gris avec mousse protectrice à l'intérieur.
10 exemplaires + 2 E.A + 2 H.C
Delivered in a grey cardboard box with protective foam inside.
10 copies available + 2 artist proofs + 2 not for sale 
Autres publications de l'auteur :
Jet Lag 24 - LUXE
Aluminium
Enrobé
Frigolite
Raffaello