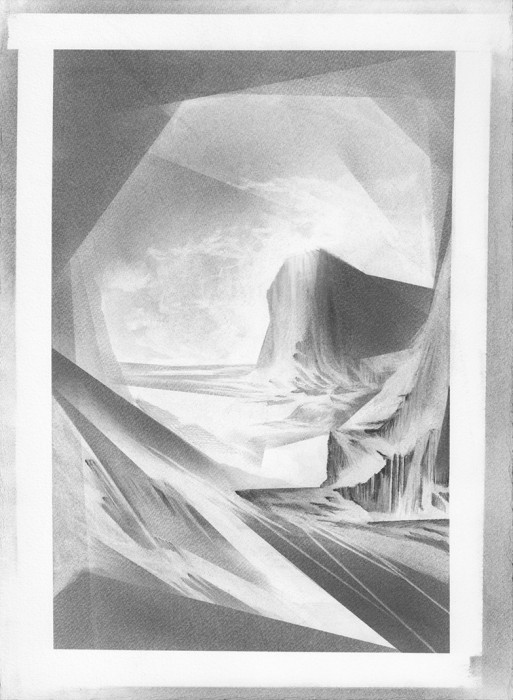 Estampes numériques / 2016
Rock 3
Angélique Lecaille

épuisé • sold out
Edition signée
* Tarif adhérent
Le paysage est au cœur du travail d'Angélique Lecaille. L'extrême précision de ses images contraste avec l'immensité des scènes représentées, qu'il s'agisse de ciels, de pics montagneux ou de paysages cataclysmiques. Ses œuvres sont marquées par une double absence. Celle de la figure d'abord et celle de la couleur. En les retirant de ses images, l'artiste concentre toute l'attention sur les espaces qu'elle déploie et sur la manière dont la lumière les effleure ou les transperce.
Lendroit éditions édite en 2016 un le triptyque Rock, trois estampes numériques, trois paysages minéraux et sculpturaux.
Angélique Lecaille's work focuses on landscapes. The extreme precision of her images contrasts with the immensity of the scenes she depicts, be it skies, mountain peaks or cataclysmic landscapes. Her pieces are marked by the absence of two components: figure and colour. By removing that from her images, the artist puts the accent on the spaces she deploys and the way the light touches and pierces them.
In 2016, Lendroit éditions published the triptych Rock; three digital prints, three mineral and sculptural landscapes.
24 x 30 cm / 25 ex.
Numéroté - signé
Reprographie
Reprographie noir sur papier Arches 250 g.
25 ex. + 3 E.A + 2 H.C
Black reprography on 250 g Arches paper.
25 copies + 3 artist proofs + 2 not for sale
Autres publications de l'auteur :
1576, éjecta
Rock II
Rock 1