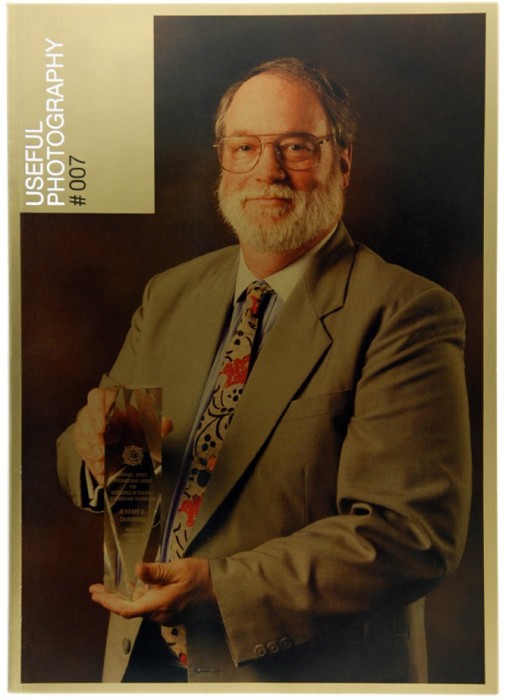 Livre - Book / 2018
Useful Photography #007
Erik Kessels / KesselsKramer
Bientôt épuisé !
* Tarif adhérent
Le sport a Wimbledon, les Jeux Olympiques, la Coupe du Monde, les films et la télévision ont les Oscars, les  Emmys et Cannes.
Il n'y a rien de plus motivant qu'une belle et brillante statuette pour récompenser vos accomplissements. Le sentiment de récompense et de fierté est désiré de tous, et pas que des stars Hollywoodiennes. Le professeur, la masseuse, l'ingénieur et le golfeur du weekend ont aussi besoin d'amour. Heureusement, il y a une multitude de prix pour toutes les plus humbles occasions, professions et hobbies. Useful Photography #007 explore les non-dits des accomplissements de ces non-célébrités dans une fière série de photos qui sont, elles, plutôt littéralement primées ici. 
1 EX. DISPONIBLE
Sport stars have Wimbledon, the Olympics, the World Cup. Movie and television stars have the Oscars, the Emmys, and Cannes.
There is nothing as motivating as a large, sculpted, shining award in recognition of your personal achievements. That feeling of reward and pride is desired by all, not just the Hollywood star. The teacher, the masseuse, the engineer, and the weekend golfer need love too. Thankfully, there is a multitude of awards for every humble occasion, profession, and hobby. Useful Photography #007 explores the unsaid of non-celebrity achievements in a proud series of photographs that are, quite literally, award-winning.
1 COPY AVAILABLE
1 ex. en stock

21 x 29,7 cm / 64 pages / / ex.
Couverture : Offset
ISBN 978-90-70478-16-2