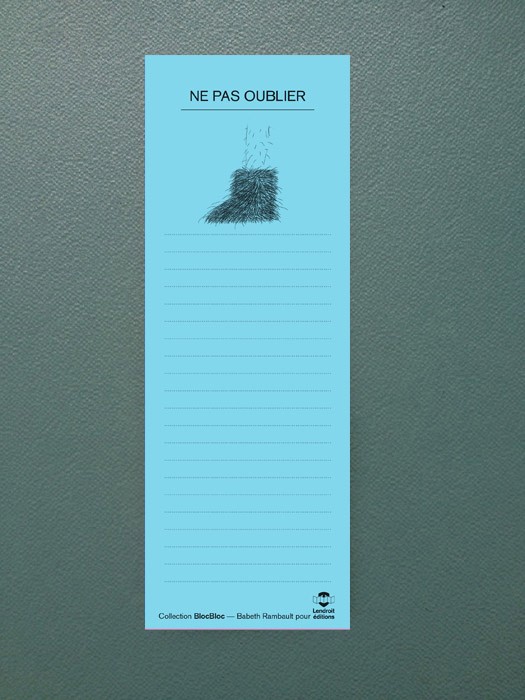 Bloc note / notepad / 2019
Bloc note Babeth Rambault
Babeth Rambault
* Tarif adhérent
La collection Bloc-Bloc propose de petits bloc-notes aussi futiles qu'utiles, pour prendre des notes, pour vos listes de courses, pour ne rien oublier.
21ème bloc note de la collection Bloc Bloc, cette création de l'artiste Babeth Rambault vous permettra -entre autre- de ne surtout pas oublier vos poils…
The Bloc-Bloc collection features small notepads as futile as useful, to take notes, to write your groceries lists, to not forget anything. 
As the 21st notepad of the Bloc-Bloc collection, this design by Babeth Rambault will allow you –amongst other things– not to forget your hair... 
166 ex. en stock
7 x 21 cm / 40 pages / 200 ex.
impression numérique
Impression noire sur papier popset bleu clair.
Printing on blue popset paper.
Autres publications de l'auteur :
Cause départ Vol. 1
BOP #12
Rose poumon