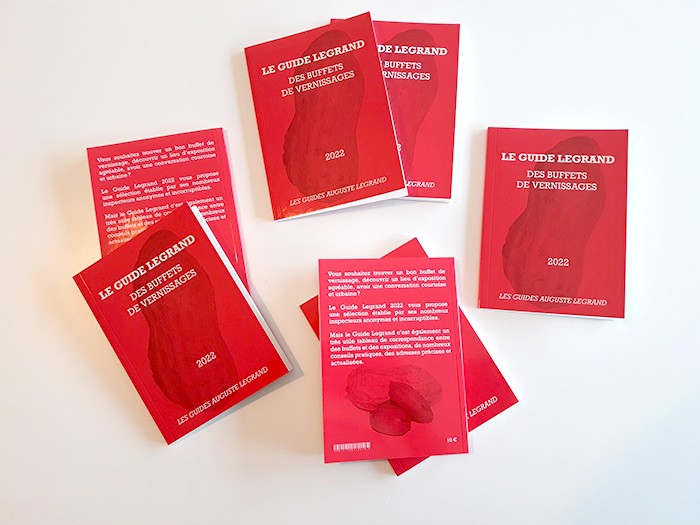 Livre - Book / 2022
Le Guide Legrand des buffets de vernissages
Pierre Monjaret / Les guides Auguste Legrand
Bientôt épuisé !
* Tarif adhérent
Vous souhaitez trouver un bon buffet de vernissage, découvrir un lieu d'exposition agréable, avoir une conversation courtoise et urbaine? Le Guide Legrand 2022 vous propose une sélection établie par ses nombreux inspecteurs anonymes et incorruptibles.
Le Guide Legrand c'est également un très utile tableau de correspondance entre des buffets et des expositions, de nombreux conseils pratiques, et des adresses précises et actualisées.
Do you want to find a good opening reception buffet, discover a pleasant exhibition place, have a courteous and urban conversation? The Guide Legrand 2022 offers a selection drawn up by its many anonymous and incorruptible inspectors.
The Guide Legrand is also a very useful table of correspondence between buffets and exhibitions, with many practical tips and accurate, updated locations.
2 ex. en stock
10.8 x 14.8 cm Le prix est de dix euros . / 48 pages / . ex.
Français
Couverture : offset couleur
ISBN 9782953117455
Autres publications des auteurs :
Correspondance 1992 – 2018