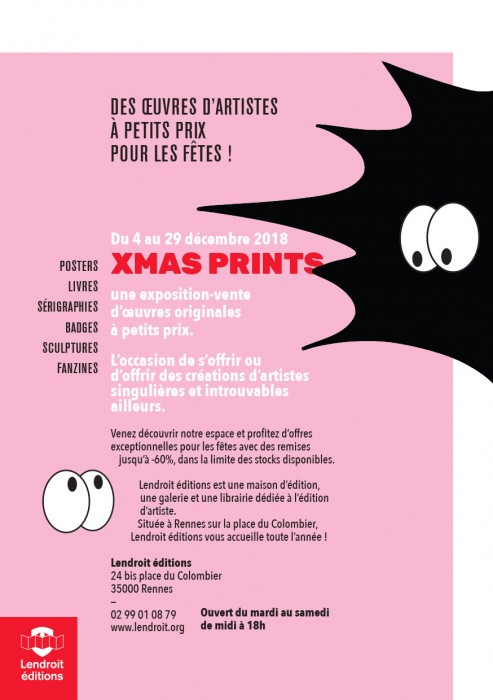 04-29.12.18 - Rennes - France
XMAS PRINTS 2018
Des œuvres d'artistes à petits prix pour les fêtes !
Apéritif de noël le 6 décembre à partir de 18h avec notre partenaire Un midi dans les vignes, cave et restaurant à Rennes !
Expo-vente du 4 au 29 décembre 2018.
Une exposition-vente d'œuvres originales à petits prix.
L'occasion de s'offrir ou d'offrir des créations d'artistes singulières et introuvables ailleurs.
Venez découvrir notre espace et profitez d'offres exceptionnelles pour les fêtes avec des remises
jusqu'à -60%, dans la limite des stocks disponibles.
Posters, sérigraphies, multiples, badges, livres, fanzines, objets, vinyls, dvd… des raretés, des introuvables, des best sellers, des petits bijoux à partir de 2 euros !
CHRISTMAS PRINTS
Artists' works at low prices for the holidays!
Christmas aperitif on December 6th from 6pm with our partner Un midi dans les vignes, cellar and restaurant in Rennes!
Exhibition-sale from 4 to 29 December 2018.
An exhibition-sale of original works at low prices.
An opportunity to offer yourself or others unique creations by artists that cannot be found elsewhere.
Come and discover our space and take advantage of exceptional offers for the holidays with discounts up to 60% off, while stocks last.
Posters, silkscreens, multiples, badges, books, fanzines, objects, vinyls, DVDs... rare and unobtainable pieces, best sellers, little gems from 2 euros!