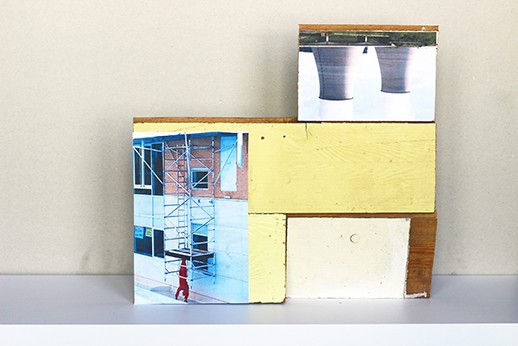 01.07.21 — 04.09.21 - Rennes - France
SIRSASANA
Babeth RAMBAULT
Une des particularités des Western all'italiana, c'est de ne pas avoir de version originale. Sergio Leone n'enregistrait pas le son, le film était doublé par la suite. Cela compte pour avantage de faire ce que l'on veut au montage, d'être tout-puissant au niveau du sens. Par contre, pendant le tournage, on n'y comprenait rien, mais on était habillé en cow-boys. Le Saloon, la Tour et le Temple sont Sirsasana, trois des quatre œuvres de l'exposition. Sirsasana, c'est une posture de yoga très, très dure à faire, aussi appelée inversion. Le chapeau de cow-boy prend tout son sens et le silence n'est pas roi pendant le tournage. On entend le bruit des travaux, les cracs du bois arraché et le szzzi szzzi de la scie égoïne. On étire ses jambes et on pointe ses pieds très, très haut ! Les trois constructions sont en parquet, un prélèvement sur la pointe des pied d'une teinte qui n'est pas due à un disfonctionnement de la matière (peut-être trop de bilirubine dans le sang ?), mais plutôt au goût des anciens locataires. -
 « C'est difficile de faire tenir des choses sur des choses » disait Peter Fischli quand il essayait de faire tenir en équilibre la louche sur la soupière. - « Passe-moi la saucisse et les cornichons » lui répondait David Weiss. Le Saloon trône de tout son long sur l'étagère. Pas d'inscription et pourtant on reconnaît aisément le tripot et on comprend ce qu'il s'y trame. L'image enchâssée et inversée nous laisse penser qu'on arrive au moment de la réconciliation. La tour est beaucoup plus stoïque, inébranlable, impassible. C'est un moment de calme et de recueillement que chacun connaît, que la cuvette soit suspendue ou non. Le temple est évidemment beaucoup plus complexe et propose, avec ses deux images et son architecture, une équation double. Comment ça tient ? Et est-ce que cela valait le coup ? Les œuvres sont donc constituées de deux parties, une structure en bois et une ou deux images. 
L'ensemble est inscrit dans une logique d'actions et d'événements. Babeth fait des travaux et trouve du parquet réemployé au mur, le bois a pivoté à 90°. Babeth sélectionne les images et s'aperçoit que son ordinateur les présente girées à 180° et à partir d'une réflexion poussée sur l'objet étagère et de cette succession de renversements sol/mur, sol/plafond, est né cet ensemble de retournements et de bricolages paradoxaux qu'est Sirsasana.
Francis Raynaud
 OEUVRES EXPOSÉES
- Le temple, 3 exemplaires numérotés et signés, 35 x 32cm, parquet, images imprimées.
- Le saloon, 3 exemplaires numérotés et signés, 85 x 32 cm, parquet, images imprimées.
- La tour, 3 exemplaires numérotés et signés, 17,5 x 63 cm, parquet, images imprimées.
OEUVRES ÉDITÉES
- Livre Cause départ - Vol II, 150 ex., 5€.
- Multiple Excès de dents, 3 exemplaires, tirage photo encadré, 50 x 75 cm. 
One of the particularities of the Western all'italiana is that it does not have an original version. Sergio Leone used to not record the sound: the movie was dubbed afterwards. It allowed to do anything during the editing stage, to be all-powerful in terms of meaning. However, while shooting, no one knew what was going on, but everyone was dressed as cowboys. Le Saloon, La Tour et Le Temple are Sirsasana, three of the four works in the exhibition. Sirsasana is a yoga posture which is very, very hard to execute, also called a yoga headstand. The cowboy hat makes sense and silence is not king during the shoot. We can hear the noise of construction, the cracking of ripped wood and the rrrrr rr-rr-rr-rr of the handsaw. Legs stretched and feet pointed very, very high! The three constructions are made of parquet, a tint on the tip of the toe that is not due to the dysfunction of the material (perhaps too much bilirubin in the veins?), but rather to the taste of the former tenants. 
"It's hard to keep things on things", Peter Fischli said when he was trying to balance the ladle on the tureen. "Give me the sausage and the pickle," David Weiss would reply. Le Saloon takes centre stage on the shelf. There is no inscription and yet we easily recognize the dive and we understand what's going on there. The embedded, reversed image lets us think that we are witnessing the reconciliation. La tour is much more stoic, unmovable, impassive. It is a moment of calm and contemplation for everyone, whether the toilet bowl is suspended or not. Le temple is obviously much more complex and offers, with its two images and architecture, a double equation. How is it holding? Was it worth it? The works consist of two parts: a wooden structure and one or two images.
The whole is enrolled in a logic of actions and events. Babeth is making renovations and finds some parquet reused on the wall, the wood has been rotated by 90 degrees. Babeth selects the images and realises that her computer shows them rotated by 180 degrees, and from an in-depth reflexion on the shelf-object and this succession of reversed floor/wall, floor/ceiling was born this set of reversals and paradoxical DIYs that is Sirsasana. 
WORKS EXHIBITED
- Le temple, 3 numbered and signed copies, 35 x 32cm, parquet, printed images.
- Le saloon, 3 numbered and signed copies, 85 x 32 cm, parquet, printed images.
- La tour, 3 numbered and signed copies, 17,5 x 63 cm, parquet, printed images.
WORKS PUBLISHED
- Book Cause départ - Vol II, 150 copies, €5.
- Multiple Excès de dents, 3 copies, framed print, 50 x 75 cm.