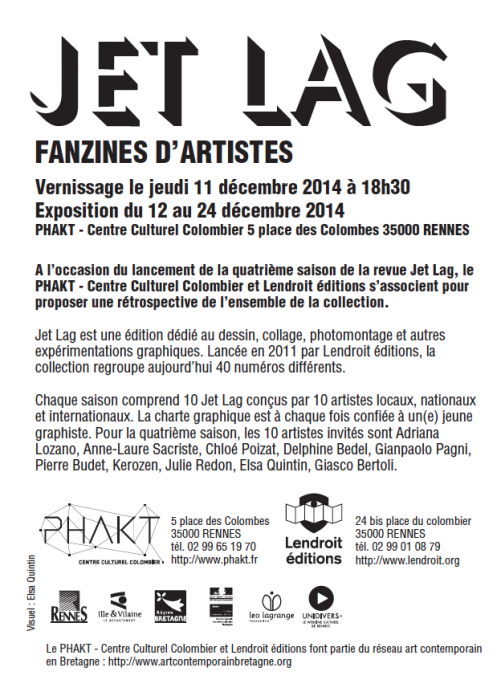 11.12.14 — 21.11.14 - Rennes - France
Jet Lag
Exposition rétrospective et sortie saison 4
Vernissage le 11 décembre à 18h30
au PHAKT - Centre Culturel Colombier
A l'occasion du lancement de la quatrième saison de la revue Jet Lag, le PHAKT – Centre Culturel Colombier et Lendroit éditions s'associent pour proposer une rétrospective de l'ensemble de la collection.
Jet Lag est une collection de livres dédiés au dessin, collage, photomontage et autres expérimentations graphiques. Lancée en 2011 par Lendroit éditions, la collection regroupe aujourd'hui 40 publications de 40 artistes français et internationaux.
Chaque Jet Lag est une carte blanche à un artiste qui s'approprie les 24 pages disponibles. Chaque artiste propose alors un univers différent, basé sur la prise en compte des différentes contraintes formelles (impression en photocopie, 24 pages, format A5) engendrant des propositions plastiques originales interrogeant sans cesse cet objet si particulier que constitue, depuis les années 1930, le fanzine. Chaque saison comprend 10 Jet Lag conçus par 10 artistes locaux, nationaux et internationaux. La charte graphique est à chaque fois confiée à un(e) jeune graphiste. Pour la quatrième saison, les 10 artistes invités sont Adriana Lozano, Anne-Laure Sacriste, Chloe Poizat, Delphine Bedel, Gianpaolo Pagni, Pierre Budet, Kerozen, Julie Redon, Elsa Quintin, Giasco Bertoli.
L'exposition au PHAKT – Centre Culturel Colombier est l'occasion de mettre en avant la diversité des propositions artistiques et de proposer au public un «jet lag* graphique» aussi intense que perturbateur.
* Le syndrome du décalage horaire, ou « jet lag » (parfois nommé «arythmie circadienne») est une condition physiologique particulière qui résulte d'un voyage rapide à travers plusieurs fuseaux horaires, généralement en avion. Un tel voyage décale effectivement les différentes horloges internes (rythme circadien ou cycles du sommeil) et l'activité extérieure (alternance jour/nuit, activité autour d'un individu).
Official opening on December 11, 6.30 pm.
At PHAKT – Centre Culturel Colombier
On the occasion of the launch of the fourth season of the magazine Jet Lag, the PHAKT - Centre Culturel Colombier and Lendroit éditions are joining forces to offer a retrospective of the entire collection.
Jet Lag is a collection of books dedicated to drawing, collage, photomontage and other graphic experiments. The collection was launched by Lendroit éditions in 2011 and  now includes 40 publications by 40 French and international artists.
Each Jet Lag is a carte blanche for an artist to appropriate the 24 pages available. Each artist proposes a different universe, based on the consideration of the different formal constraints (photocopy printing, 24 pages, A5 format) generating original plastic proposals that constantly question this very particular objects that has been the fanzine since the 1930s. Each season includes 10 Jet Lag designed by 10 local, national and international artists. The graphic charter is entrusted to a young graphic designer each time. For the fourth season, the 10 invited artists are Adriana Lozano, Anne-Laure Sacriste, Chloe Poizat, Delphine Bedel, Gianpaolo Pagni, Pierre Budet, Kerozen, Julie Redon, Elsa Quintin, Giasco Bertoli.
The exhibition at PHAKT - Centre Culturel Colombier is an opportunity to highlight the diversity of artistic proposals and to offer a "graphic jet lag*" as intense as it is disruptive.
* The jet lag syndrome (sometimes called "circadian arrhythmia") is a particular physiological condition that results from rapid travel across several time zones, usually by air. Such journeys effectively shift the various internal clocks (circadian rhythm or sleep cycles) and external activity (day/night alternation, activity around an individual).