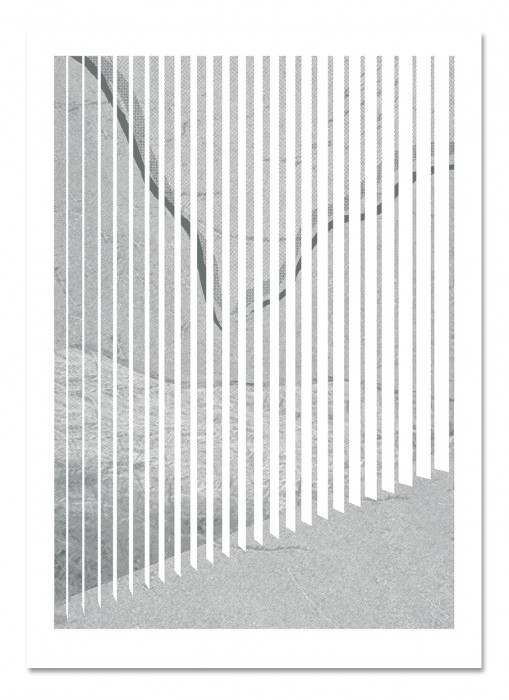 Sérigraphie - Silkscreen / 2016
Store Californien
Evelise Millet
Edition signée
* Tarif adhérent
En biologie, le terme tropisme est le mouvement d'un organisme provoqué par son milieu ambiant, comme l'orientation des végétaux ou l'attirance de certains insectes à la lumière. C'est à ce principe de stimulus-réaction que la démarche d'Evelise Millet fait référence dans cette exposition éponyme.  Elle scrute les modes d'apparition de l'image et les ephemera, les imprimés de tous les jours, notamment ceux développés par l'industrie touristique.
Soucieuse de la relation qu'entretiennent l'affichage et l'espace collectif, elle puise dans ses photographies et trace des points de rencontre entre les signes et leurs structures, pensés et fabriqués pour être vus.
L'édition Store Californien a été conçue en écho à l'exposition Tropisme présentant des dessins et sculptures qui proposent de reparcourir ces espaces aménagés pour le regard.
In biology, "tropism" refers to the movement of an organism caused by the surrounding environment, such as the orientation of plants or the attraction of certain insects to light. The approach Evelise Millet has in her exhibition Tropisme refers to this stimulus/response system. She studies the way images and ephemeras are created, as well as every day's printings, especially in tourism.Because she is concerned about the relationship between the display and the collective space, she draws from her photographs and traces the meeting points between signs and their structures, designed and fabricated to be seen.
Store Californien was designed to reflect the Tropisme exhibition presenting drawings and sculptures that propose to revisit these spaces designed for the eye. 
10 ex. en stock
50 x 70 cm / 45 ex.
Numéroté - signé
sérigraphie une couleur
Impression une couleur pantone sur papier rivoli 240 g.
45 exemplaires + 3 E.A + 2 H.C
1 Pantone colour imprint on Rivoli paper 240 gr. 
45 copies + 3 Artist proof + 2 Out of trade 
Autres publications de l'auteur :
On the roof 04